Do you think transforming the outdoor area is quite easy?
Probably you're thinking of an outdoor space we usually have in our homes. When it comes to transforming the outdoor area of the aged care homes, you need to find some unique and different ideas. What's the benefit of building an outdoor space that can't even provide proper entertainment to the residents?
In this article, we'll highlight the ideas the aged care homes use to provide comfort to the residents. You may also use these ideas to build a comforting space for your members. So, without wasting any time, let's start talking about how you can transform the outdoor area of aged care homes.
Provide Easy Access
The easy access to the outdoor space is really important when you're working in aged care homes. The elderly often need some support to go from one place to another. And sometimes, they need to use a wheelchair to go out of the room. In this situation, they can only access the outdoor area if you've built a ramp there.
Moreover, you should avoid adding stairs so they may stay safe from injuries. Thus, the elders would be able to spend some interesting moments in the outdoor area.
Plant the Flowering plants
The flowering plants are really important for the mind's comfort. The elderly often suffer from stress and anxiety especially when they're in aged care homes. It usually happens because the authorities don't build a relaxing environment for them. If you plant some flowering plants in your outdoor area, you'd often see them smiling. And the stats of your aged care home will be quite different from others.
Add Some Furniture
Being an organizer of the aged care home, you must have noticed that the elders easily get tired when they walk or even stand for a few minutes. And they need someplace where they can take some rest. If you didn't add any furniture in the outdoor area, they won't be able to spend valuable time there. And your entire effort will go in vain.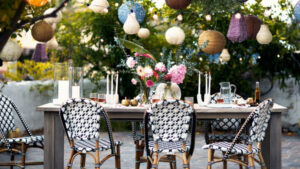 Therefore, it's recommended that you add some furniture items in the outdoor area to ensure the comfort of your members. You can simply build a sitting area using the outdoor blinds. All you have to do is to find the best outdoor blinds in Adelaide and then install them in the outdoor living space.
Repeat Plants for Balance and Unity
Repeating plants is an ideal way of providing a relaxing and comforting environment for the elderly. When you have different plants in the outdoor area, it puts more stress on your brain rather than comforting. Therefore, you should consider repeating plants every few steps to ensure balance and unity.